The Property Manager Enterprise Edition organizes and integrates the largest management organization, with scattered sites anywhere in the world. It extends the Corporate Edition by providing optional modules (depreciation/amortization, budgeting, and purchase orders) and our formidable peer to peer client-server (PPCS) networking (read our networking whitepaper).
No property management software product, at any price, matches the networking capabilities of the Enterprise Edition when used on the internet. Our architecture outperforms all the competition bar none, yet saves you manpower and cuts your support and licensing costs to a small fraction of that of any of our competitors.
The Enterprise Edition provides a comprehensive property management capability along with its unmatched capability to integrate your widely separated satellite offices. It is full customizable using a personality module. The Enterprise Edition defines the standard for the property management enterprise.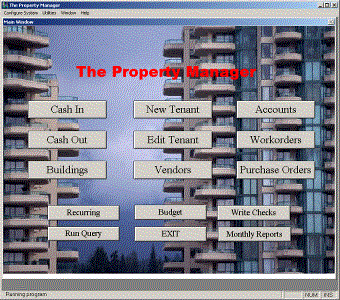 click on a form button to view details and screenshots
Form background is user configurable